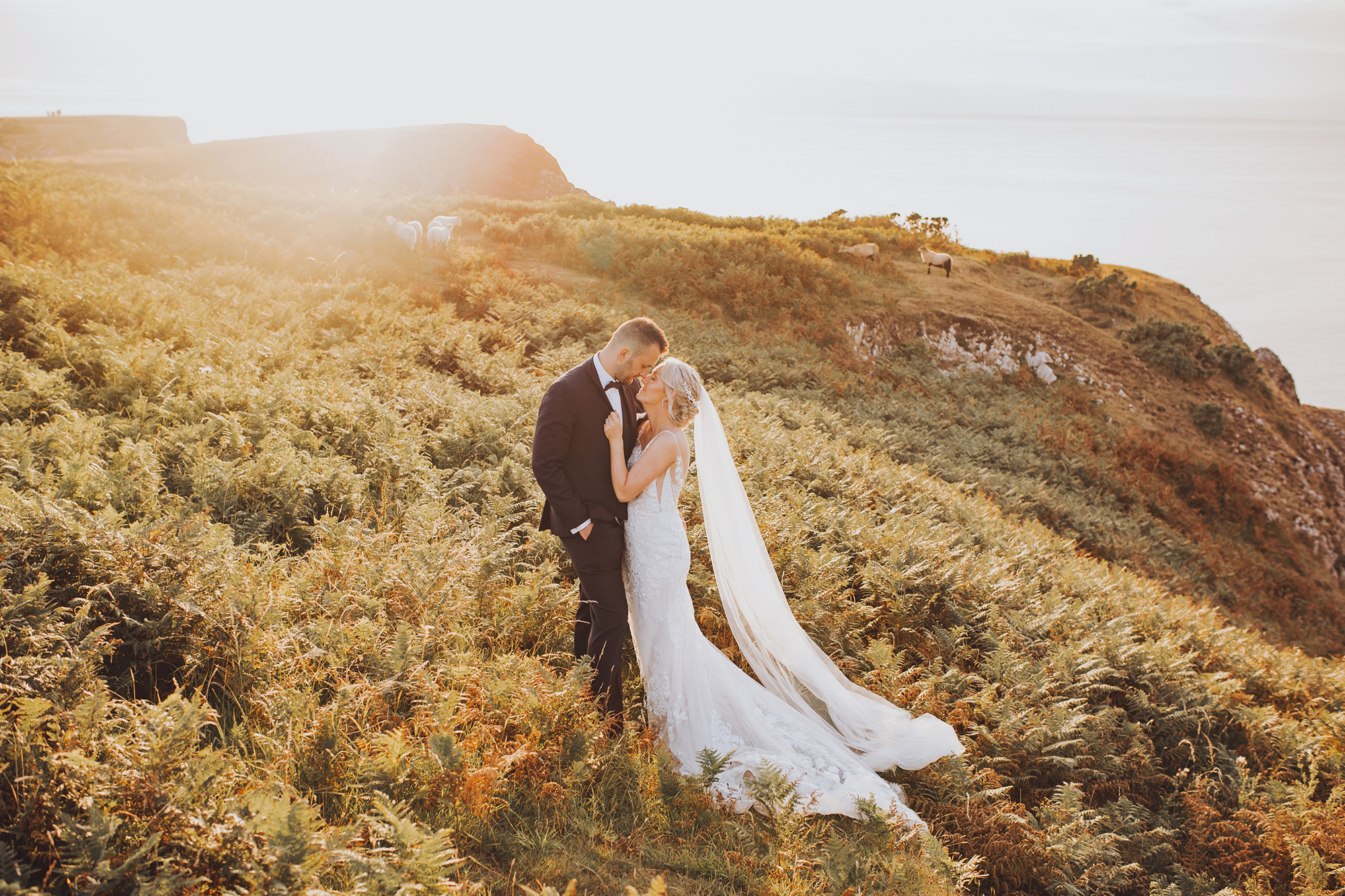 Charlotte and Ryan's outdoor Oldwalls wedding was truly breathtaking. The beautiful venue, located in the stunning Gower area of Wales, provided a perfect backdrop for the couple's special day.
The girls got ready in Mulberry Cottage whilst the boys were in a nearby hotel. The couples young son was with the girls all morning and he definitely stole the show with his cute outfit!
The Outdoor Oldwalls Ceremony
The couple exchanged vows in a beautiful outdoor ceremony in the lake house. The weather was perfect, with warm sunshine and a gentle breeze, creating the perfect atmosphere for an outdoor wedding. The lake and green surroundings added an extra touch of magic to the day too.
Sunset photographs at Oldwalls Gower
After the ceremony, they walked under a flurry of confetti and enjoyed their drinks reception in the ground of Oldwalls. We did their group photos with the floral broken archway they used in their ceremony. It was the perfect backdrop.
The Reception
Charlotte really wanted singing waiters at their wedding but Ryan put his foot down and told her it wasn't in the budget. Unbeknownst to her, he'd arranged them as a surprise! The look on her face when she realised says it all! The had everyone clapping and sining along after dinner which properly got the party started.
Afterwards, we'd scheduled in some time to take an adventure to the coast at sunset for their sunset couple photos overlooking the ocean. The scenery was absolutely stunning, with the sun casting a warm, golden glow over the landscape. As the waves crashed below, the couple looked out over the sea, it was a pretty magical moment!
We got them back in time to cut their cake, have their first dance and get the party started with music from The Kiltics band. They were incredible and had everyone up dancing and joining in. The night finished with beautiful fireworks overlooking the lake.
This outdoor Oldwalls wedding was such a dream to shoot, I can't wait to be back at Oldwalls again soon!
If you're looking for an Oldwalls wedding photographer then get in touch!
Suppliers
Dress: Enzoni Blue Nefertiti dress
Make-up: Kathryn Kift
Hair: Bridal hair by KatieHelen
Bridesmaids: TH & TH
Band: The kiltics

Check out some other blog posts