A PROFESSIONAL THIRD WHEEL
AND YOUR NEW WEDDING PLANNING BESTIE!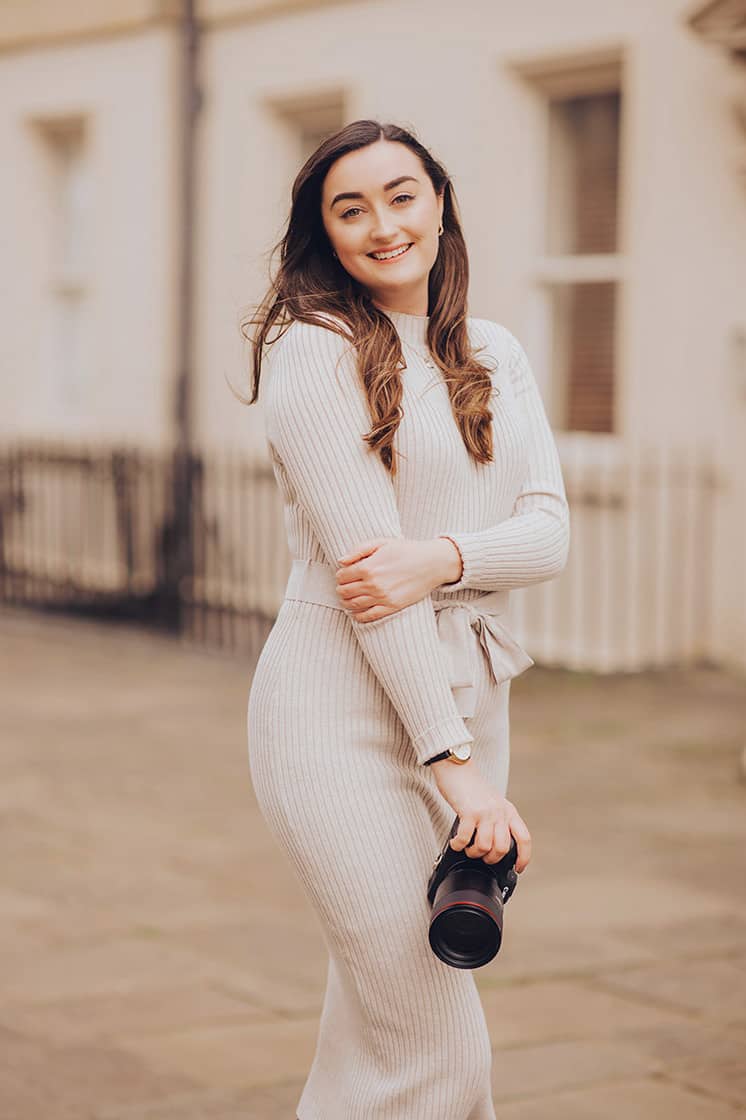 You're not just looking for a photographer, you're also looking for someone who will be by your side throughout the planning and on your wedding day!
I'm a gin-enthusiast and wannabe doodle-dog owner who thrives off of noughties pop-punk music, Haruki Murakami books and chocolate desserts!
I grew up in the beautiful New Forest before moving to South Wales to study Fashion Photography at University. I'm now based in Cardiff and still have family in Hampshire so I'm lucky enough to shoot in both locations and everywhere in between!
Ziggy is my parent's goldendoodle dog and he is the love of my life. If you're dog people, I already know we'll get on just fine! And yes, please feel free to send me photos of your dogs any time!
I'm a sucker for a good love story and of course, I'm a hopeless romantic. I'm one of those people who will stop the car to appreciate an amazing sunset or drive for miles to find the perfect spot for stargazing.
My favourite place is a quirky coffee shop where I can snuggle down in a comfy armchair by the window and people watch all afternoon over a vanilla latte.
Since 2016, over 150 couples have entrusted me to capture their wedding day and I draw upon all that experience to photograph your wedding day too. You can read what they have to say here!
In 2021, Honeydew Moments grew into a small team who are available to shoot your wedding alongside me as a second photographer or instead of me if I'm not available. They're amazing photographers who know my style inside out and I trust them entirely to capture your day in the exact way I would. If I'm already booked on your wedding day, I will offer you one of my team members instead so you can still have our signature Honeydew photographic style.
My approach to wedding photography is simple - I'm right there when you need me, and I blend seamlessly into the background when you don't.
I let your day unfold without interfering too much so your photographs are an accurate and authentic record of your wedding. However, I know when to jump in and take control to capture those must-have shots so nothing is missed.
My style is romantic, warm and candid. I'm all about those fun, natural shots that capture the emotion of the day, but also those magazine-worthy couple portraits!
I'm known for my golden hour photographs, and I'm absolutely giddy for pretty light. I have even been dubbed 'The Queen of Sunsets' by a few of my couples! You'll know when I find that magic because I'll be jumping around showing you how gorgeous it is!
You should have a photographer who is there to guide you and who is your biggest cheerleader. Someone who is just as excited about your wedding day as you are!
Your love story should be captured by a photographer who is dedicated to getting to know you and the details that make your relationship truly unique and that is what I love about my job. The inside jokes, the stolen glances, the reasons behind every little detail is exactly the reason I enjoy what I do so much.
I put my heart and soul into every shot because I love what I do, and that's what love stories deserve! You deserve a photographer who truly cares, who is truly invested in you two as a couple. Because that's me! I care so much about my couples that you can normally find me welling up in the vows and definitely during the speeches!
I'm not just a supplier, I'm a friend. 
"When booking Natasha you get more than just an incredible photographer, you get someone to rely on leading up to the big day and on the day itself. There were times that Natasha seemed more excited for the day than we were - she is the ultimate cheerleader! On the day she worked so incredibly hard to make all of our dream shots a reality and the result speaks for itself! She made us all feel so at ease and natural in front of the camera. We cannot recommend her enough, she is simply the best!"
– Jess & Dave

I believe it's really important that you're comfortable with me so you can relax for your photographs and I can capture the true 'you' in your relationship.
We'll always meet in person before your wedding day. Whether this is at your engagement shoot, visiting your venue or just going for coffee!
Throughout the process, I'll be available to you through emails, phone, zoom calls or in person.
Keep up to date with me on instagram to see the behind the scenes of what's going on too.
So by the time your wedding day comes around, we're besties!

If you're struggling to find a certain supplier, I've got you.
You're worried what will happen if it rains on your wedding day? Don't panic!
Once you're booked in with me, I send out an amazing list of recommended wedding suppliers. I also send you handy hints and tips throughout your wedding planning to make your life just a little bit easier.
I also work with you and your wedding venue to create your wedding timeline to ensure things run perfectly smooth on the day.
I'll be there to guide you throughout your entire wedding planning process!

You may not realise now, but once your wedding day is over, you're left with just three things: your partner, your rings and your photographs. So invest in them wisely.
These photographs are your legacy!
Your photographs are the only thing from your wedding day which increases in value as time passes on.
I believe they should be handed down through generations. This is why I offer the highest quality albums to compliment your wedding day coverage.
I truly believe in the value of photographs and I hope you do too.
Want to know what it's like having Honeydew Moments as your wedding photographer?
"Natasha's enthusiasm, warmth and sheer passion for what she does really made us feel at ease and enjoy the whole process. She gave us direction where needed, and supported us in posing for the most amazing shots. Natasha really has a great intuition for capturing beautiful moments, and honestly her enthusiasm for photography kept us energised all throughout the day. We don't know how she finds the energy, but she was so helpful with everything, we're so grateful that we had her as our photographer!"
"The photos we have had back from our wedding day are incredible! They capture the atmosphere of the day perfectly, from romantic to emotional to fun! There is not a single photograph in our album that doesn't make us smile. On the day, it was like we were being photographed by a friend! You were more than just a photographer, you went above and beyond for us and nothing was too much trouble. You made our day perfect!"
"From the moment my wife and I first met our photographer, Natasha we just knew we had made the right choice.
Supremely organised and very efficient, she helped us to plan the photos we wanted to capture on our wedding day and executed them to perfection! Her funny and reassuring nature really helped us to relax and get some incredible photos far beyond our expectations!"
"If you're still looking for a wedding photographer – STOP. You've found her!
Natasha is not only an incredible photographer – creative, has amazing attention to detail and super talented. She is just the nicest person to have with you on your wedding day. It's so important to find a photographer who has a passion for their job. I can honestly say Natasha is the most enthusiastic, warm and talented photographer I've ever met."
"If you're looking for your Cardiff wedding photographer, look no further. Natasha is your woman! I've been in weddings for several years now and have never met anyone who can produce such beautiful photos in a unique style. Every photo is truly beautiful and amazingly edited to get the best from the shot. She truly has talent. From the moment we met her she was positive, enthusiastic and passionate. She made two super awkward people feel so comfortable in front of the camera. She's discreet during the ceremony, great with our guests and super creative getting couple shots."