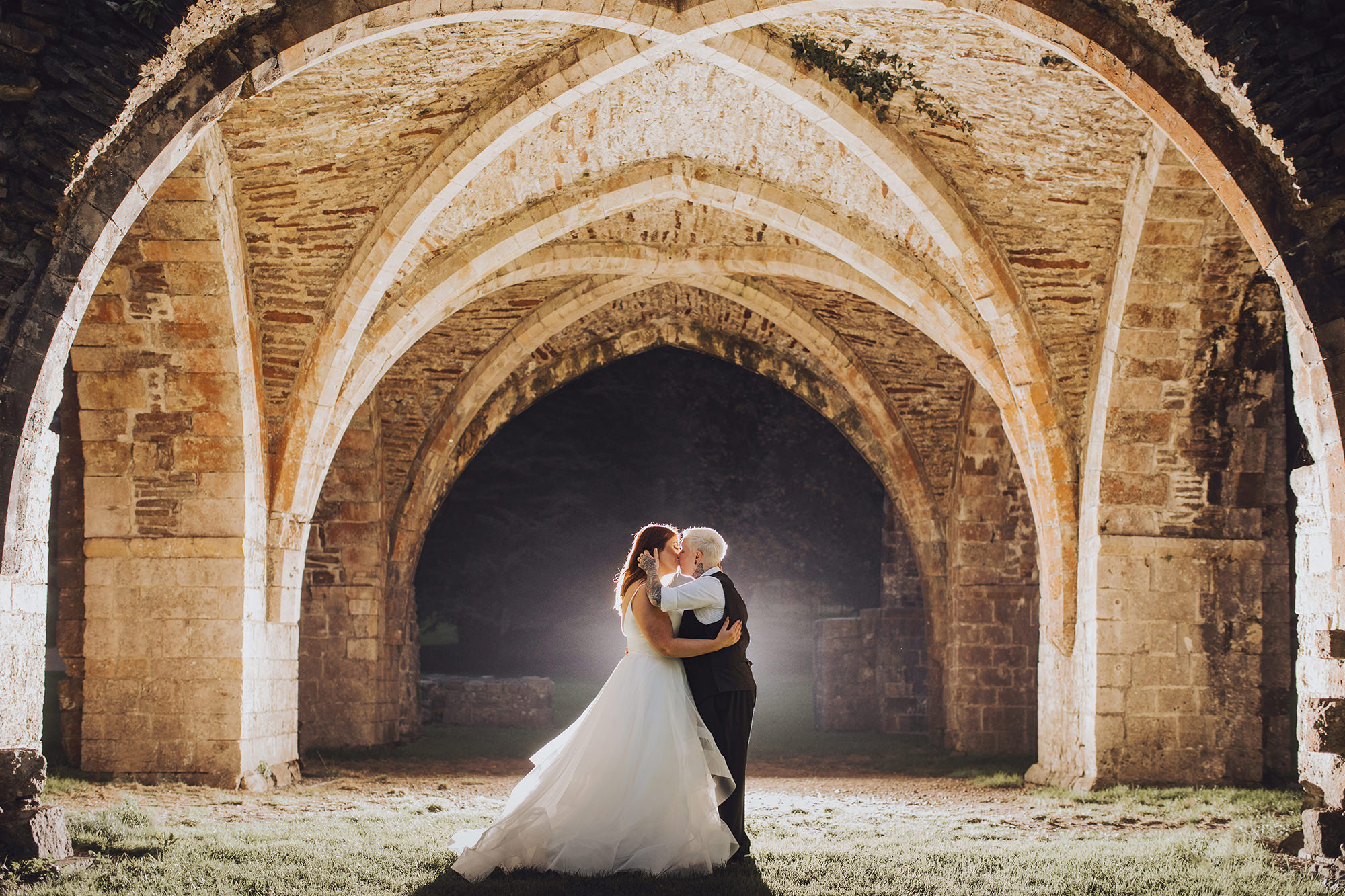 Your evening wedding reception photos is not something that gets talked about all too much. If you've chosen me as your photographer, you'll know I like to stay after the first dance to get those brilliant party shots!
But there's more to your evening wedding reception that just the dancing. Here are my top tips to get the most out of your photos at your evening wedding reception!
Plan your sunset photos into the timeline
If you know my work well, you'll know I'm a huge fan of a beautiful sunset. It's my favourite time of day to shoot and it just makes me so happy! The golden glowing tones are flattering for couple portraits so it's really important to plan time for sunset photos into your reception timeline.
Your sunset time will change depending on the time of year of your wedding is. It can be as late as 9:30 pm in June or as early as 4pm in December! The best time I personally like to capture golden hour is between 1 hour and 45 minutes before sunset. This gives the hazy glow at the start of the golden hour session and a stronger orange light towards the end.
Feed your vendors
I promise your evening wedding reception photos will be so much better if your photographers have eaten! We will have started our day early in the morning and most likely won't have had a chance to eat anything all day.
Feeding us at the same time as you eat your wedding breakfast is a good plan. You or your guests won't want photographs of people eating so this is the time we take our break. We eat, recharge and backup your photographs so far. Then we're ready to capture your evening reception and those epic night time portraits with restored energy!
Cutting your cake
This is a slightly odd tradition anyway that's stuck around into modern weddings. Cutting the cake usually happens just before the first dance. From a photographers perspective, the best thing is to get your venue staff to move the cake into the centre of the dance floor for this moment.
Your guests will surround the dancefloor and be ready and waiting to watch you cut the cake. Once you've cut the cake your venue staff will take it off the dance floor and cut it up whilst you go straight into your first dance. As a photographer, this means I won't have to worry about changing the lighting situations because the lights will already be set up.
By doing it this way, there is no break between the two scheduled evening activities. We all know how hard it is to get a group of drunk guests to a certain place at a certain time, let alone twice in one night! It creates a better flow to your evening and means more time for chatting and dancing!
Your first dance
Your first dance as a married couple is what essentially opens the dancefloor to get the party started! However, some couples are nervous about dancing in front of everybody for such a long time. It's really common for couples to choose to only dance to half the song before asking others to join them.
I personally recommend dancing to at least the start of the second verse in order for your photographer to capture all the shots needed.
Another way to break up the first dance is to let off confetti canons in the chorus!
Offer an interactive food station for your guests
If your guests have had a 3-course meal a few hours earlier, they may not want lots to eat in your evening reception. However, if you have extra guests coming later, they may not have eaten at all.
Having an interactive food station is great for both of these types of guests. It means the day guests can create their own snack and the evening guests can eat as much as they need too. Each guest can customise it to their own liking and it creates a great talking point for guests too. Happy and well-fed guests mean for a fun-packed dance floor.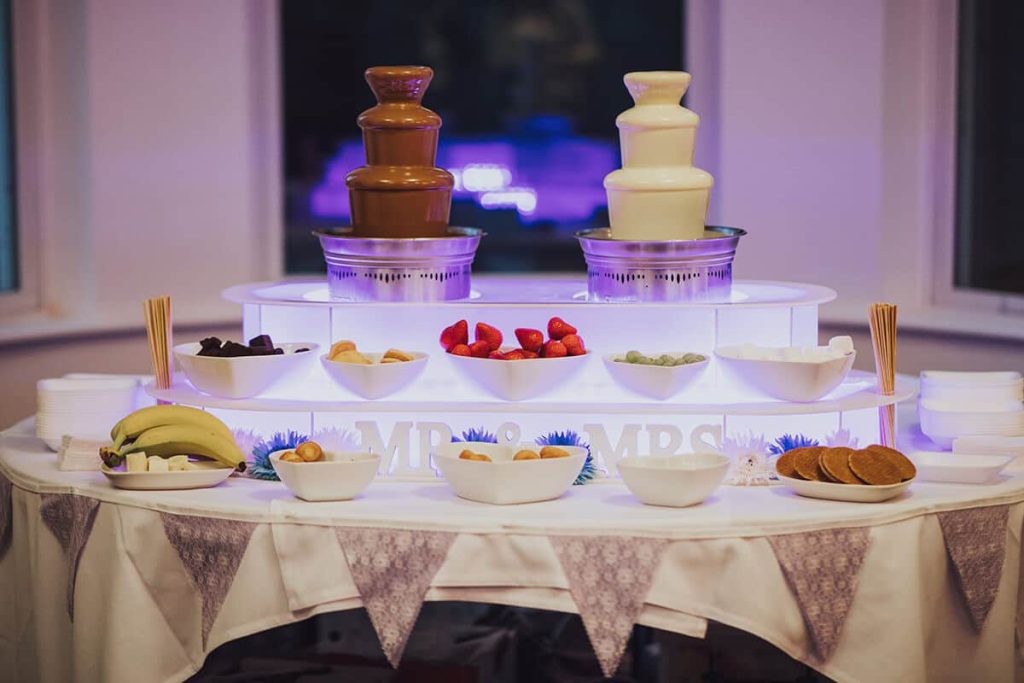 A packed dancefloor makes for better photos at your wedding reception
There are a few ways to make sure your dance floor stay packed all night. First is a simple one, hire a great band or DJ! Get recommendations and try to see them perform before you hire them.
Second, provide cheap flip flops for the ladies to encourage them to remove their high heels and dance longer!
Have a comfortable seating area nearby. This is great for older guests who maybe don't want to dance but don't want to miss out on what's happening either.
Lastly, turn on lots of cool party lighting! Hopefully, your DJ or band will provide this. The more colourful dance floor lights you have, the more creative your photos will be. They'll also make your dance floor photos look packed, even if it wasn't!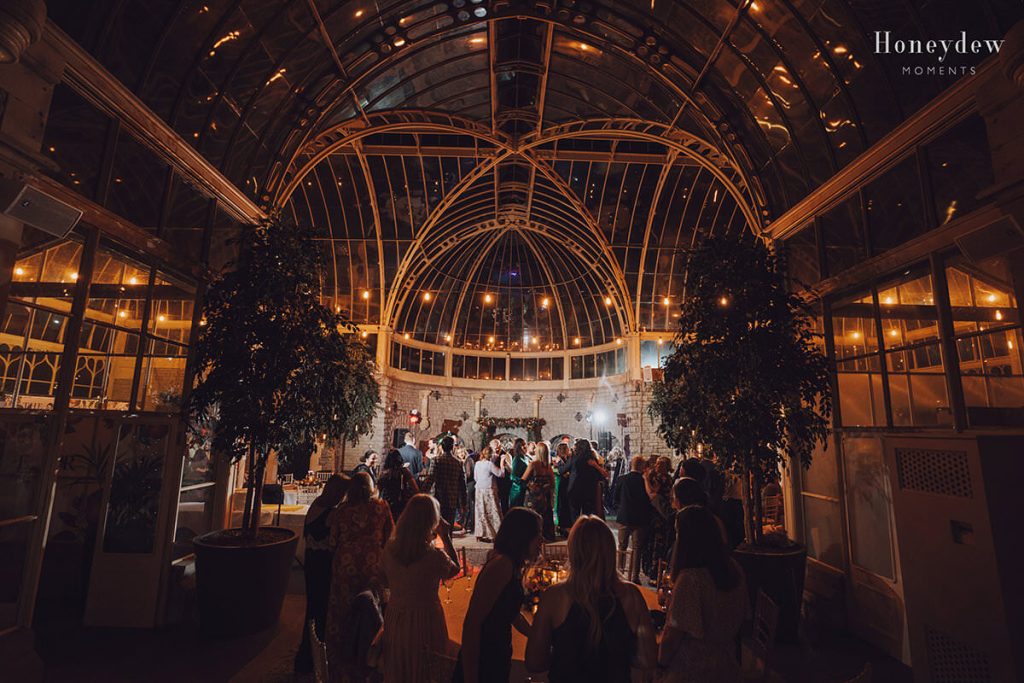 Bonus Tip: Have a box of photobooth props by the dancefloor. Sunglasses, silly hats and blow up instruments make for brilliant party photos!
Read my full blog on dance floor wedding photos here!
Invest in some sparklers for some evening wedding reception fun!
I love a sparkler tunnel at a wedding. It's the perfect way to inject something different into your evening party. From a photographers viewpoint, you want to do this at dusk. When the sky is a deep blue but not black. I would also suggest buying the longer 16″ sparklers for maximum sparkle time.
As a health and safety precaution, I usually ask for sparklers to be done with just a few people. Usually just the bridal party and a few extra friends. Too many drunk people combined with sticks of fire can be a hazard. It's best to ask people who haven't had 5 jager bombs already!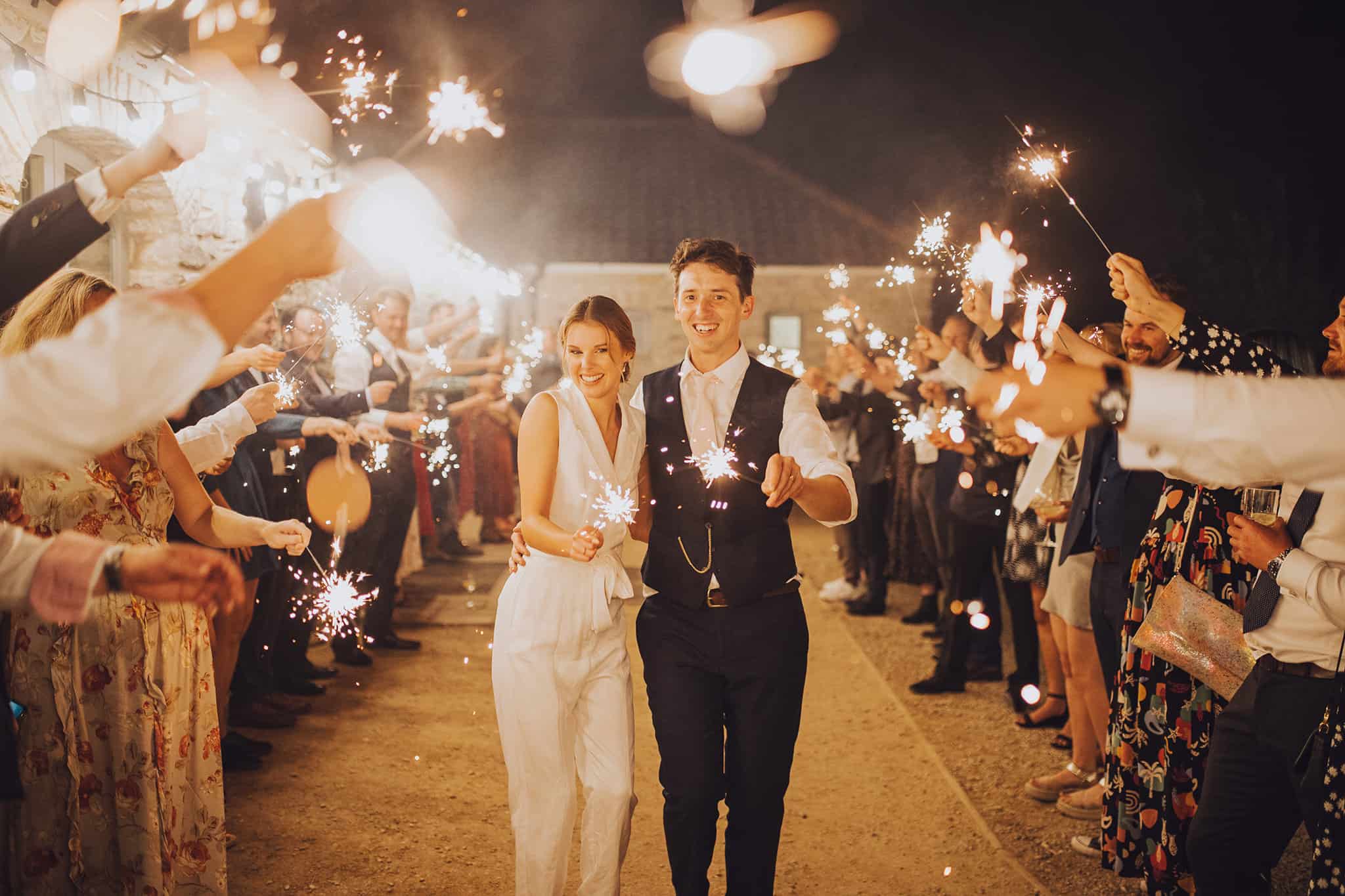 I hope this blog has helped you plan how to get the most out of your evening wedding reception photos!

Check out some other blog posts