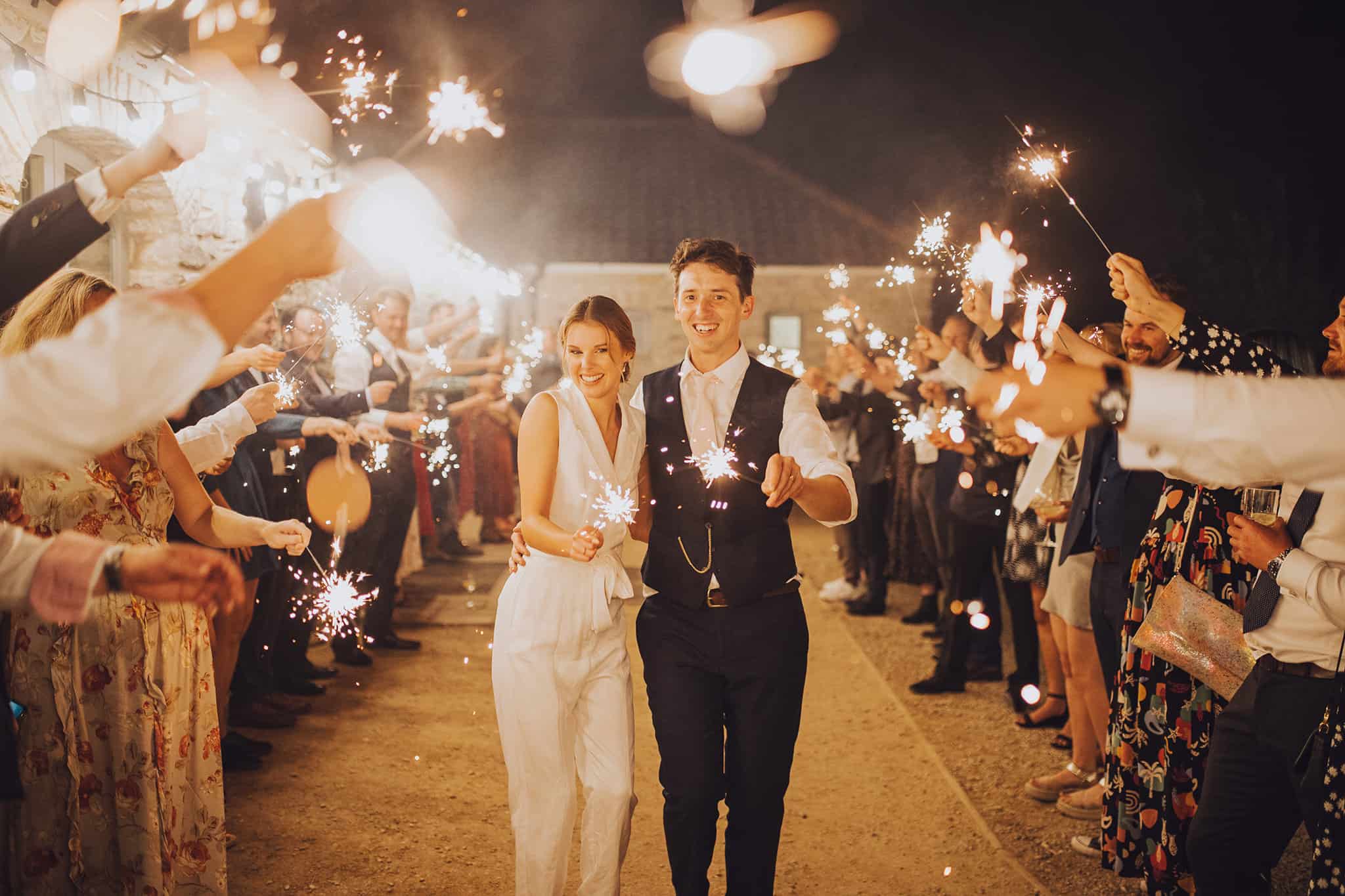 Wedding sparkler photos are so beautiful. Invest in some sparklers for some evening wedding reception fun!
I love wedding sparkler photos. It's the perfect way to inject something different into your evening party. From a photographers viewpoint, you want to do this at dusk. When the sky is a deep blue but not black. I would also suggest buying the longer 16″ sparklers for maximum sparkle time.
As a health and safety precaution, I usually ask for sparklers to be done with just the bridal party and a few extra friends. Too many drunk people and sticks of fire can be a hazard, so best to ask people who haven't had 5 jager bombs already!
How to get the best wedding sparkler photos
Buy the long sparklers
You can normally get sparklers in 10″, 16″ or 18″ lengths. If you can get the 16″ or 18″ like these ones they would be the best for your sparkler photos. When you have a large group of people all trying to light sparklers at the same time, some will be lit first. You want to make sure that the sparklers that are lit first are still lit once everyone else's is lit too. This is why you need the long ones!
Capture your wedding sparkler photos in the early evening
Capturing your sparklers in the early evening is so much better than later on for many reasons. The main one is that your guests won't be as drunk so it's much safer for all involved. But the earlier time is great because you'll still have some colour in the sky. When the sun has gone down you get an hour of navy blue sky which is beautiful as a backdrop to your sparkler photos!
Only include your most special guests
You don't actually need that many guests to create those epic sparkler photos! I always recommend asking your bridesmaids, groomsmen and parents to come outside for sparkler photos. The rest of your guests are more than welcome to enjoy the sparklers too but after the photos have been taken.
The reason I think it's perfect for you to do sparklers with just your bridal party is because that's usually around 10-20 people which is a great number. These are the people at your wedding who will have been around me for the entire day by this point. They've got to know me and will respect what I say. This is super important when we're dealing with fire and potentially drunk people.
If someone is super drunk, don't give them fire on a stick!
Sounds like common sense doesn't it, but there has been a few occasions where I've had to confiscate sparklers from drunk guests and send them back inside! I promise I'm normally a super lovely person to be around but fire is not something to be messed with. Your health and safety is my priority – alongside creating stunning photos for you!
Create a tunnel or semi circle
Similarly to confetti, there are many ways you can create the perfect sparkler photos. If there are lots of guests, a tunnel is a great option. This is where your guests line up in two lines facing each other. You and your partner walk down the middle of the aisle as your guests hold their sparklers up above your heads. This is so beautiful and it's even better to stop halfway down the tunnel for a kiss and to take in the moment.
If you have less guests, a semi-circle of your guests surrounding you is your best option. You can give everyone two sparklers for more light and they can wave them around you and cheer as you celebrate in the middle!
I hope these wedding sparkler photos tips were useful for you!

Check out some other blog posts