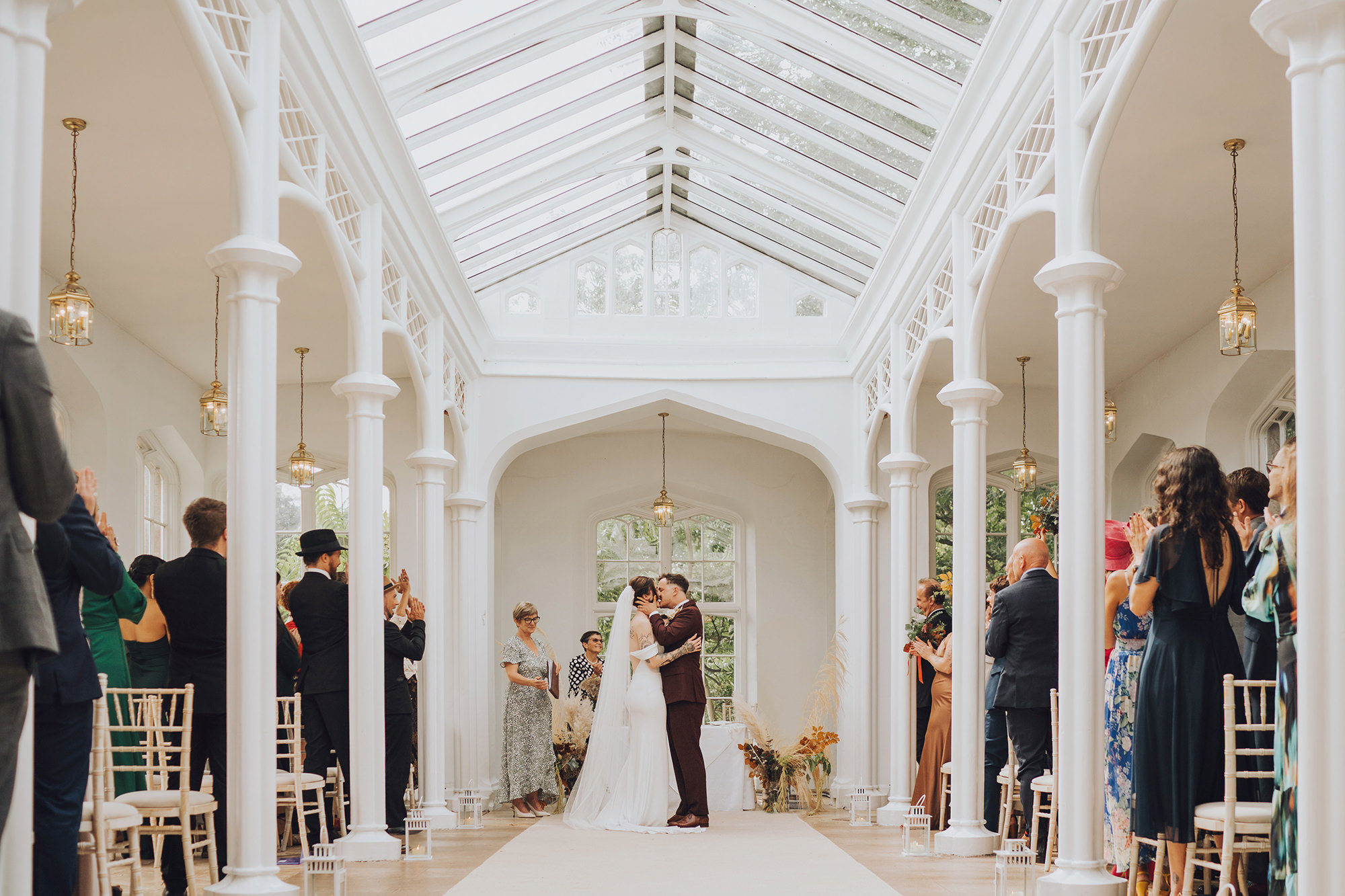 So many brides I chat to tell me that they're not one for being in the spot light and often say the part they are most nervous about is walking down the aisle and the first kiss!
'How do we do it?'
'How much is too much?'
'I'll feel so awkward with my nan watching us!'
I'm lucky enough to get to see a tonne of wedding ceremonies. Which also means a tonne of first kisses as newlyweds! I've put together this guide of handy tips for making sure your first kiss looks killer in your photos!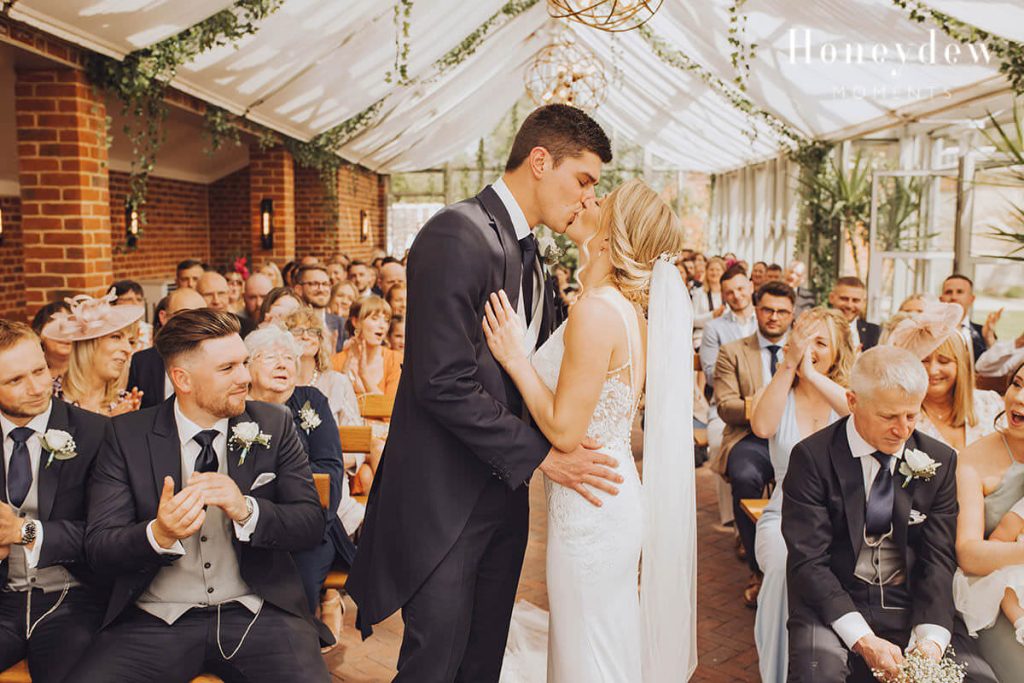 1. Get in close
Damn close! Lock your hips together and pull her in at the waist.
If he's taller, get on your tip toes to meet him half way.
2. Get your hands involved
This may sound silly but leaving your arms hanging loosely by your sides looks much sillier!
Groom, run your hands through her hair, round her neck or bring her in by the small of her back.
Bride, if his hands are around your waist, bring yours up around his neck and pull him in for a longer kiss.
3. Close your eyes
The amount of couples who kiss with their eyes open is amazing, totally weird right?
This one is usually something I'll bring up on your engagement session with me when I'm giving you the run down on how to get the most out of your session.
It's such an important tip, close your eyes and get into the moment. This is your first kiss with your partner as husband and wife- it's a huge deal!
You want to remember the feeling, hear your guests cheering and focus fully on your partner to make the most of this special moment.
Not to mention, it's so much less awkward and you won't go cross-eyed too!
4. Watch that head tilt
You gotta have some head tilt, but be aware of which way you're tilting. Ideally, if your photographer is at the front of your ceremony room, the bride wants to be tilting her head to the right. This way, your photographer gets to see more than just the top of your head.
However, too much head tilt to the right and your photographer will see the underside of your chin. Too much head tilt can also make your neck look pretty strange!
The best advice I can give is to practice with your partner and have someone take a photo of you so you can see what it will look like. Alternatively, book an engagement session in with your photographer so you can get some practice and also get tips from your photographer too.
5. Make it long!
Personally, I recommend a 5 second kiss.
I know, I know it sounds super long but hear me out.
It gives your photographer enough time to try a few different things. Usually, I try to capture at least one portrait and one landscape photo of your kiss. The longer kiss gives me time to do this and give you both options.
Also, by having a longer kiss it means that I can shoot more of the same frame. This is super useful if your dad in the front row isn't looking or if your bridesmaid is mid-sneeze!
If 5 seconds feels too long then break it up with a few mid-length kisses

Bonus tip: Hug it out!
Once you've had your incredible 5 second long kiss, don't let it end there.
Go in for a hug after, this moment is so special don't let it slip away and don't break your connection.
This is such a sweet moment as all your guests clap and cheer but for you guys, you're the only ones in the room.
I've had past couples go in for a long hug afterwards, stare lovingly into each others eyes and I've even had couples seal it with a high five!
Be yourselves, your unapologetic selves, because you guys just got married!
Read more helpful wedding planning blog posts here!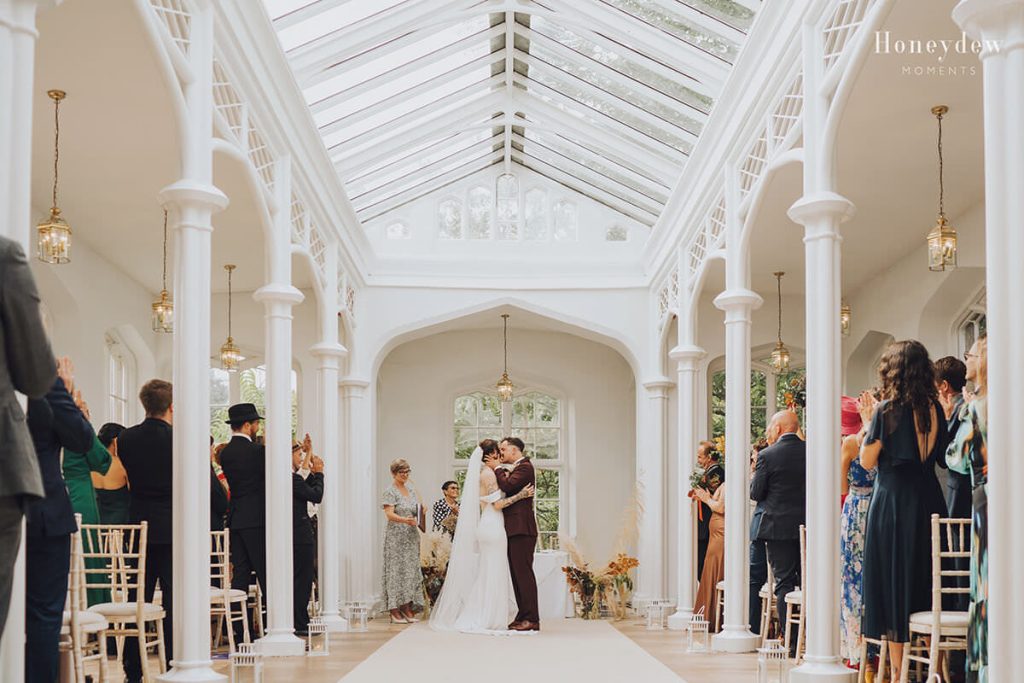 Check out some other blog posts