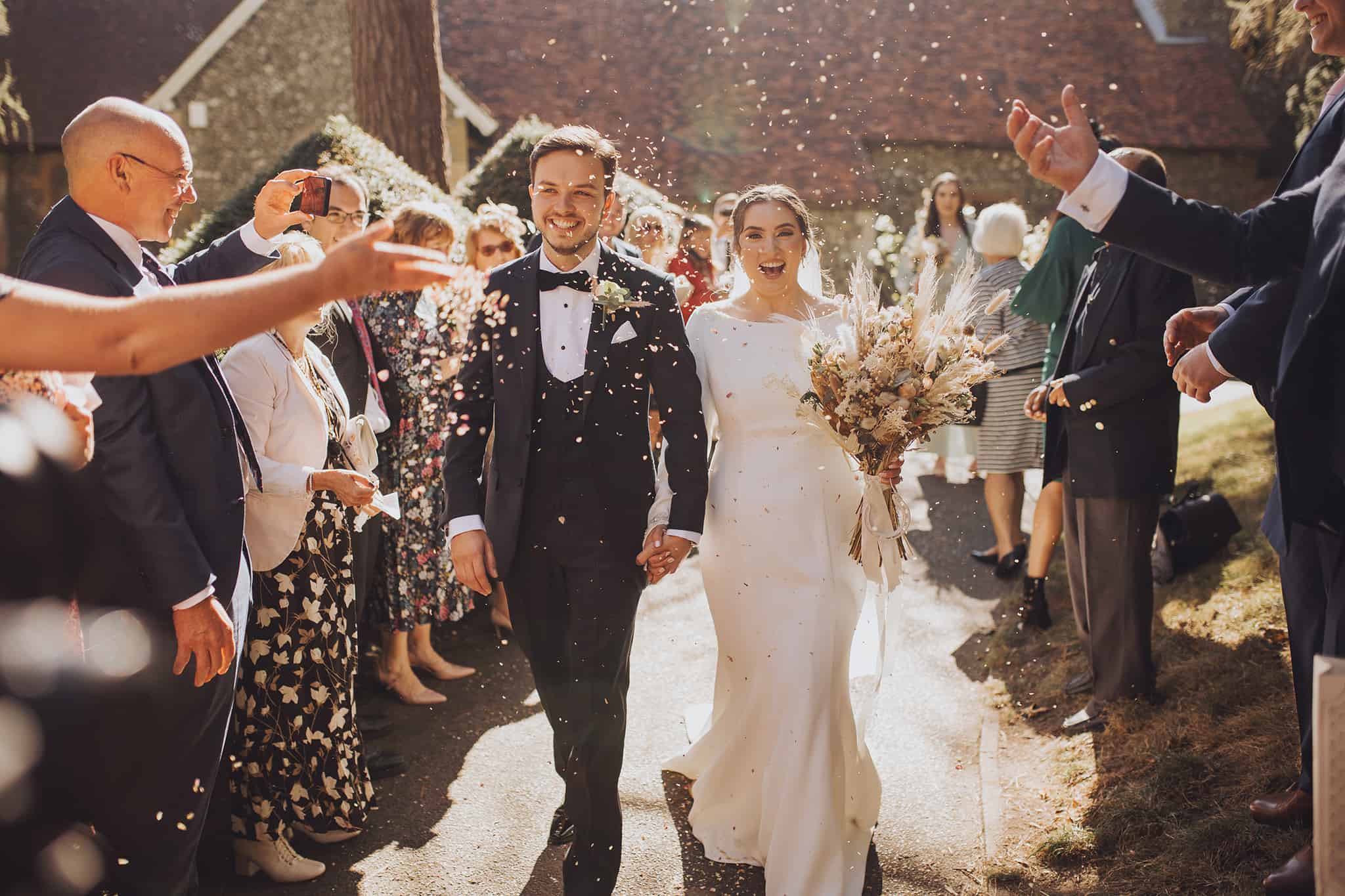 4 Secrets to Nail your Confetti Photos
I love confetti and I love confetti photos- it's no secret! I always ask my couples if they're having it, if they're providing it and when it's happening. Its the most fun walking through an aisle of all your closest friends and family as they shower you with petals and love. A confetti aisle is the perfect way to celebrate your marriage which is why I love to arrange it as soon as your ceremony is finished.
I've written this guide with the mindset that you're opting for biodegradable petal confetti. Most venues insist on your confetti being biodegradable due to the environment and I'm certainly an advocate for it too. There's so many companies who provide this now so real petal confetti isn't hard to find. You could even check gumtree for past brides selling their excess!
Another cheeky money saving tip: you can ask your friends and family to dry all their petals from their gardens over the few months leading up to your wedding.
1. Know how much you'll need
---
I guarantee this is not something you've ever had to consider unless you've planned a wedding before. But how much confetti do you actually need?
Gone are the days when people bring their own confetti to weddings. You may get a grandma with one packet of confetti prepared to share it out between all your 80 guests but I promise you it's not going to go very far.
For the best confetti photographs, everyone need to have a good handful. After speaking with florists, I personally recommend around 5 litres of confetti per 50 guests. It's better to have more than you need than less. By having extra, we can set up other types of confetti photographs such as blowing it at the camera or having your evening guests sprinkle it on you during first dance!
2. Size matters, no seriously, it does!
---
The main reason for this point is that smaller petals are lighter and flutter better as they fall. The best petals for throwing are wildflower petals as they fall delicately and slowly.
This gives your photographer more time to capture that magical moment. Having said this, a mix of smaller and larger petals works really well and is a great way to add colour and texture in your larger petals and looks great in photographs.
3. Choose a good location
---
Another thing to consider is location, the actual place you'd like to have your confetti photos. I can 100% recommend discussing this with your photographer as they may already have an idea of the best place to have your confetti shot. Traditionally the confetti is thrown as the couple leave church to provide them with prosperity and fertility. However, not everyone opts for a church wedding so the rules can be bent to suit your wedding day. Some churches and even other wedding venues have strict rules about where confetti can be thrown, even if it's biodegradable. It's definitely a good idea to have a chat with your venue to find out what their rules are.
As well as location, you also need to decide how you want to have your confetti thrown. I suggest two options, either you stand in the middle of a semi-circle of your guests and everybody throws at the same time. This is great for smaller weddings with 50 or less guests. If you have a larger guest list I always recommend the confetti tunnel. This is where I set your guests up in two lines and you walk down the middle of it as guests either side throw the confetti as you pass them. This leads me nicely onto the next point.
4. Slow it down and take it all in
---
Walk slow! This is the moment you celebrate having just got married! It so much fun and you have to take it all in. How often do you have all your friends and family throw flowers at you with humungous smiles of joy on their faces?
My biggest tip for couples it walk way slower than normal, keep smiling and try to keep your head up and eyes open. It's a natural reaction to wince when you've got tonnes of things being pelted at you but I promise it's worth it for photographs. Hold your head high, laugh and take it all in!
There you go, you just nailed your confetti photos!
Liked this guide and want to learn more? How about 5 Steps to the Perfect First Kiss? Read it here!

Check out some other blog posts