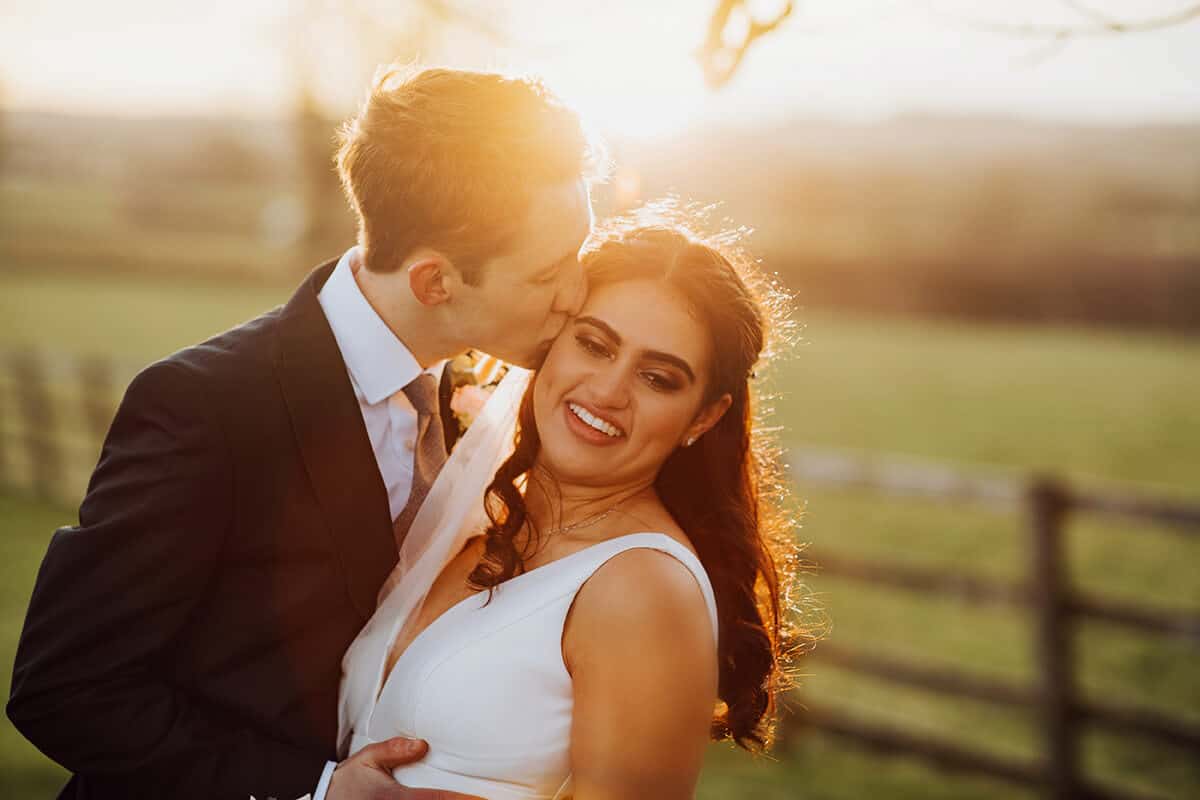 Hyde House Wedding, Cotswolds – Mr & Mrs Bemister
Reema and Adam had their Hyde House wedding on February 29th 2020, a leap year!
Hyde House is nestled amongst peaceful Cotswolds hills. It's such a beautiful location for your wedding photography.
They met when they were both on a year abroad in Malaysia 5 and a half years ago!
The proposal
"We had been away to Bath for a weekend trip with all of our university friends. We went around the Christmas markets and then as sunset was approaching I led Reema down to a nice quiet spot near the river. I fumbled the ring out of my pocket, dropped down on one knee and popped the question in my beginners' Arabic. She said yes and cried a lot!"

– Adam, The Groom
The Wedding Day at Hyde House
The February weather threw them everything it could. It was bitterly cold and extremely windy all day. It even sleeted in the morning, poured down in the afternoon and then the sun showed its face too!⁠
Hyde House has the most beautiful room for the girls to get ready in the morning. The girls had their hair and make-up done before dressing in their forest green bridesmaid dresses.
Reema's dad came up to see her and his reaction was so heartwarming, he came through the door and immediately welled up!
Their friend performed the ceremony acting as their celebrant. The ceremony was so personal, with readings in both Arabic and English. A close friend of Reema's family played a beautiful song on the flute. Adam's sister performed a very touching reading which she struggled to get out through tears but it made for such a sentimental moment when Adam put his arm around her to comfort her.
They left the Grange and headed back into the wind and sunshine. It was so windy that Reema's veil flew off on the walk over to the barn! They walked through a blustery confetti tunnel before heading inside for champagne and canapes.
The evening brought a brilliant first dance which they had choreographed to Bruno Mars' 'Marry me'. It was spontaneous and fun and all the guests loved it! The band took over and kept the dancefloor packed all night!
Thank you so much for having me at your Hyde House Wedding!
Check out more weddings in the Cotswolds here!
Supplier Love
Bridesmaids: Wed2B
Florist: HazeLea
Cake: Sugar Bowl Bakes
Band: The Hot Keys
The Review
"Natasha was amazing for us from beginning to end! Before the wedding she was ready to help with any queries, and on the day she was timely, organised and nothing but positive to have around. We had our wedding at Hyde House in the Cotswolds at the end of February and we were concerned about what the weather might do on the day. We had high winds, hail, rain and it was bitterly cold but you couldn't tell from looking at the photos we got. We felt very relaxed and at ease around Natasha and had a good laugh with her on the day. She even managed to capture the hilarious moment the wind took my veil off my head!
We received her photos very quickly and we were blown away. They really capture the day and are a gorgeous reminder of our wedding. The editing is soft and romantic and every time I think about them, it brings a smile to my face. We can't thank Natasha enough for capturing one of the best days of our lives!
PS: Her newsletters are amazing and very informative if you're planning your wedding soon!"
Want to see more?

Check out some other blog posts