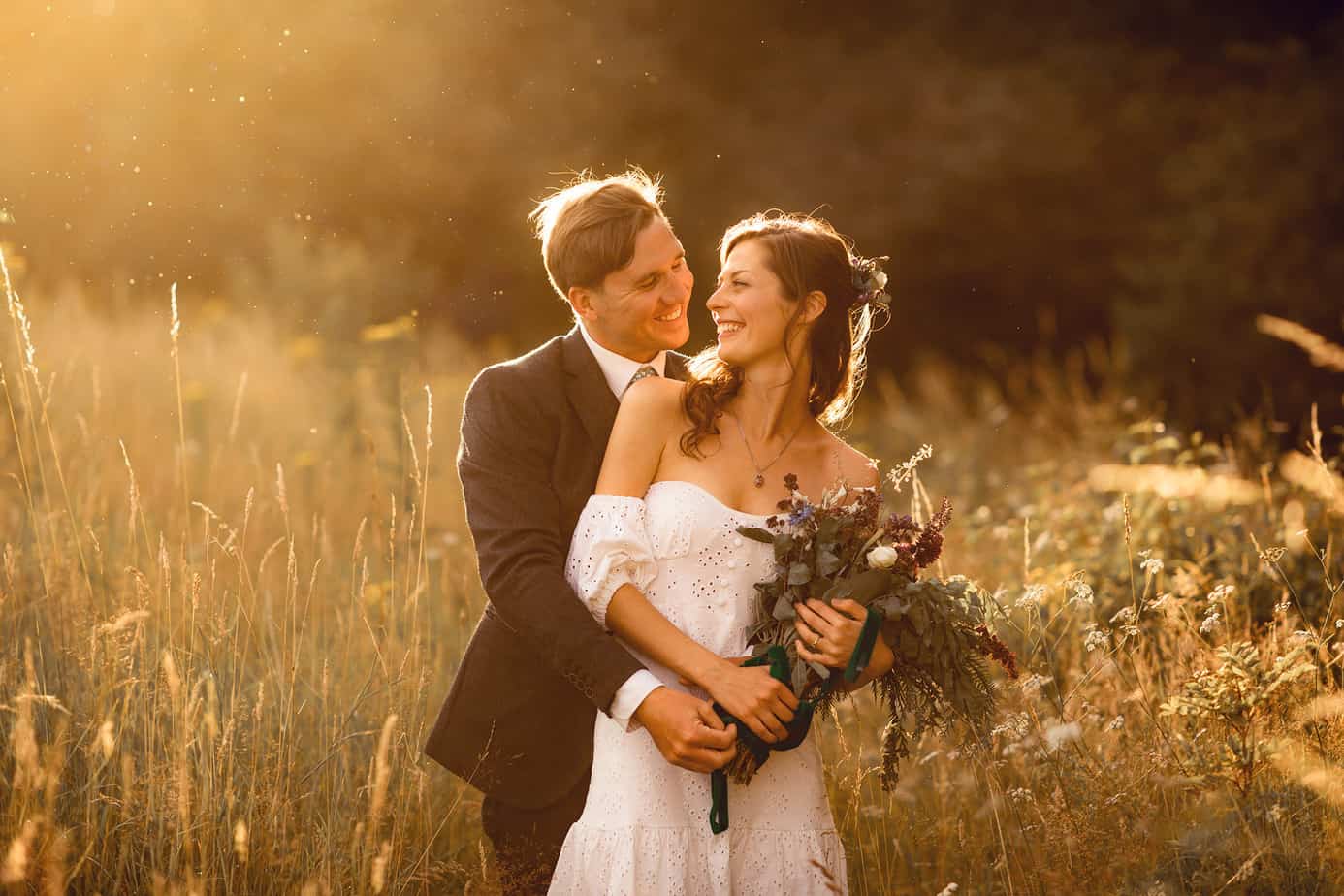 Coronavirus Micro Wedding -Folly Farm Centre
Nikki and Ian chose to have a Coronavirus micro wedding because they already had 2020 in their minds as the year they got married!
Their original wedding date was the end of May 2020, and unfortunately, they were one fo the unlucky couples who had to postpone their celebrations due to the COVID-19 pandemic.
Ian admitted to me: "We've both been wearing our wedding rings since our original wedding date!"
They've rescheduled their big celebrations for June 2021 but they also wanted to celebrate this year too! They contacted their wedding venue, Folly Farm Centre in Bristol, and arranged a socially distant ceremony for just 8 guests!
Coronavirus Micro Wedding Ceremony
It was such an intimate and special ceremony held outside in the courtyard with breathtaking views over the Chew Valley.
It should have been 10 guests to watch them make their vows but two of them decided to cycle to the venue and subsequently got lost along the way causing them to miss the ceremony! At least they won't be late for next years wedding!
The 10 guests consisted of both Nikki and Ian's parents, Nikki's brother, two bridesmaids and their partners and bridesmaids little girl who was adorable!
The day was full of multiple confetti throws – because one is never enough and we had an entire basket! A fun prosecco spray – because we had a spare bottle! The afternoon consisted of socially distanced photos and an intense game of croquet I've ever taken part in!
We took a stroll around their venue for their couple photos at sunset and it was so worth the wait! The golden rays were unbelievable and the fact that there was no schedule to stick to made it so easy to choose the right time, wait for the light and create some beautiful images together.
⁠
They ended their day drinking G&Ts around the campfire as the sun dipped below the valley.⁠
⁠
Coronavirus micro weddings are most definitely a thing I can get on board with!
⁠
It truly felt like such a special day and I'm so grateful I got to experience it with such a lovely group of people.⁠
⁠
The best thing: we get to do it all again next summer!
I love Folly Farm Centre, see more weddings I've captured there here!

Check out some other blog posts