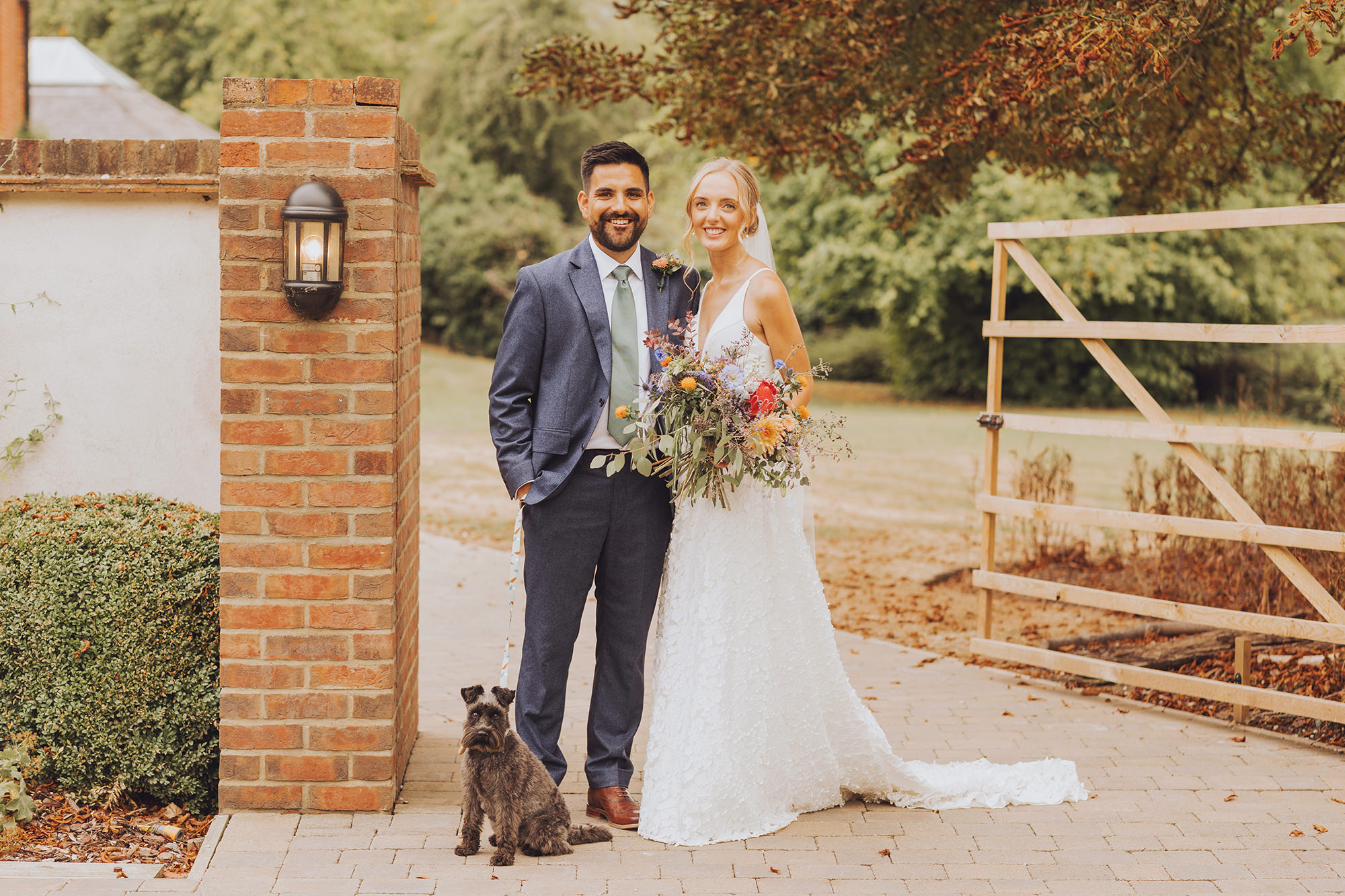 Dog Friendly Wedding at Syrencot- Sophie and Dan
Sophie and Dan's dog friendly wedding at Syrencot, a stunning wedding venue in Wiltshire, was utterly incredible! The wedding took place on a sunny August day and was truly an unforgettable day.
Syrencot provided the perfect backdrop for the couple's big day. Colourful summer florals adorned the venue and complemented the sunshine perfectly.
Dog friendly wedding at Syrencot – The Ceremony
They married in the glasshouse, surrounded by greenery and blooming flowers. What made the ceremony extra special was the inclusion of their dog, Zola, as the ring bearer. It was a heartwarming moment that brought smiles to everyone's faces! Dan also got emotional during the ceremony too which was lovely to see.
After the ceremony, they walked under a flurry of confetti before enjoying drinks and canapés in the sunshine with their guests. Zola might have stolen the show at this wedding but she's so adorable that nobody minded.
One of the standout features of this wedding was the fact that it was a dog friendly wedding. Syrencot provided ample space for the couple's dog to run around and enjoy the festivities. It made the day even more special to have the pup be a part of it! I am here for all of the dog friendly weddings!
Sophie and Dan's dog friendly wedding at Syrencot was perfection. The colourful florals, heartwarming moments, and inclusion of their furry friend made it a truly unforgettable day. As a wedding photographer, I was honoured to be a part of such a special occasion.
Suppliers
Dress: All Who Wander
Flowers: Hibiscus and Hodge
Hair & Make-up: MK hair and makeup

Check out some other blog posts