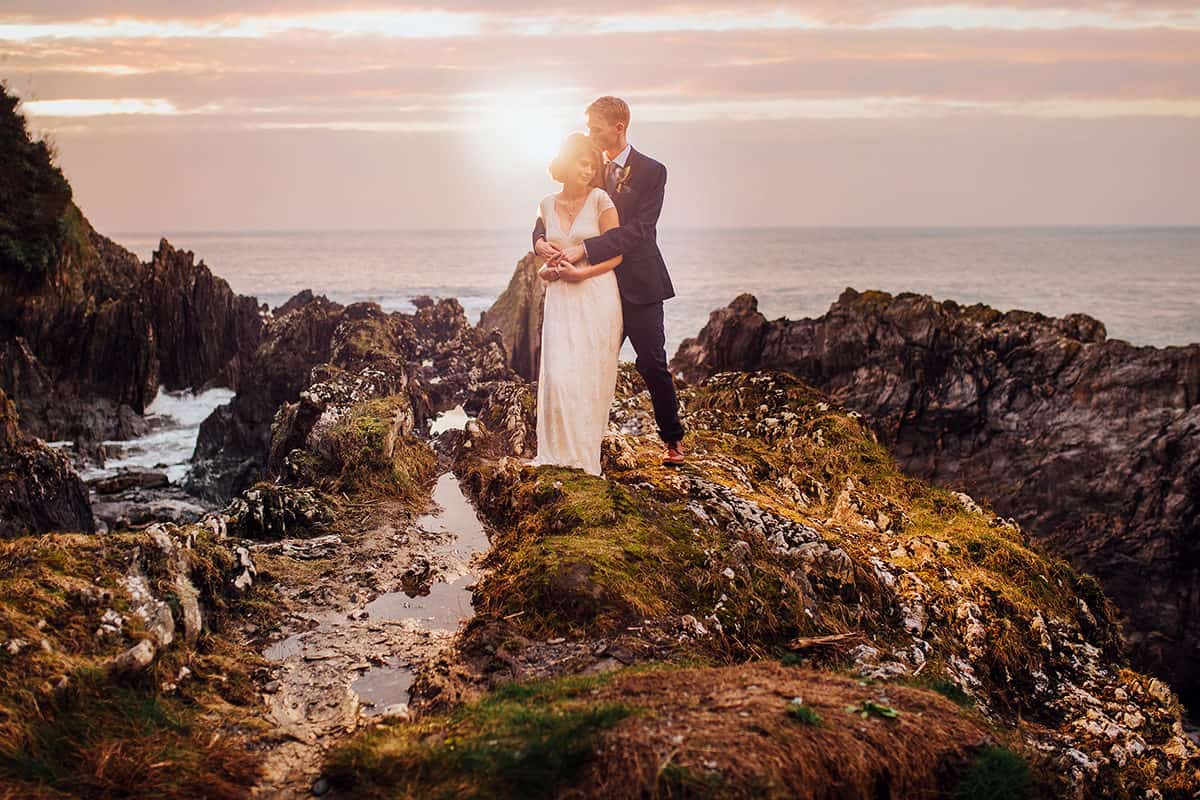 Polhawn Fort Wedding, Cornwall
Matt and Lottie got married in the most beautiful coastal location, Polhawn Fort in Cornwall which feels like it's on the edge of the world. Polhawn Fort is such a unique wedding venue as it sits on a clifftop in Cornwall overlooking a secluded private beach. It truly is a magical place and at times in the February sun it didn't even feel like we were in the UK!
Matt and Lottie met in school and have been childhood sweethearts for almost 10 years!
---
"We don't remember the exact moment we met! We were both at the same secondary school and we 'knew of' each other. But we weren't part of the same friendship group and didn't have any classes together. At college, two of our friends became a couple, and we began hanging out as mutual friends. Now here we are almost a decade later!"
---
Matt and Lottie both prefer winter over summer, it made sense for them to have a February wedding. Winter weddings are great as nobody expects the weather to be sunny, when the sun shone all weekend for their wedding it was a welcome surprise. They both have a soft spot for Cornwall and loved the laid back and DIY style that a Polhawn Fort wedding provided.
They had the Fort for the whole weekend and most of the close family arrived on the Friday afternoon. The evening was spent exploring the venue, prepping the decorations for the following day and getting to know each other.
---
The Wedding Day
The morning of the wedding was really relaxed. Everyone stayed over in the beautiful rooms in the fort and got up leisurely. Lottie got ready with her best friend and only bridesmaid, whilst Matt put the final touches to the fort's decoration.
They threw tradition out the window and went for a relaxed ceremony with their closest friends and family. Both their mums did beautiful readings in their ceremony and they exited the fort as newlyweds! I stole them away to the top courtyard of the fort for some couple photographs right away. Whilst in the gardens, Matt's mum had secretly arranged a confetti aisle. Matt and Lottie came into the fort's gardens under a flurry of confetti thrown by their nearest and dearest.
The rest of the day consisted of amazing food, heartfelt speeches, mulled cider and exploring the fort's private beach just as the sun had gone down. We finished the day with traditional Cornish pasties and some crazy dancing to the Macarena!
What a way to kick off 2019 wedding season! Thank you for having me to capture your Polhawn Fort Wedding!
---
Suppliers
Dress: Alie Street London
Bridesmaid Dress: Dorothy Perkins
Suit: Next
Catering and Cake: Sarah from Miss Tea Catering
Rings: Goldsmiths
---

Check out some other blog posts