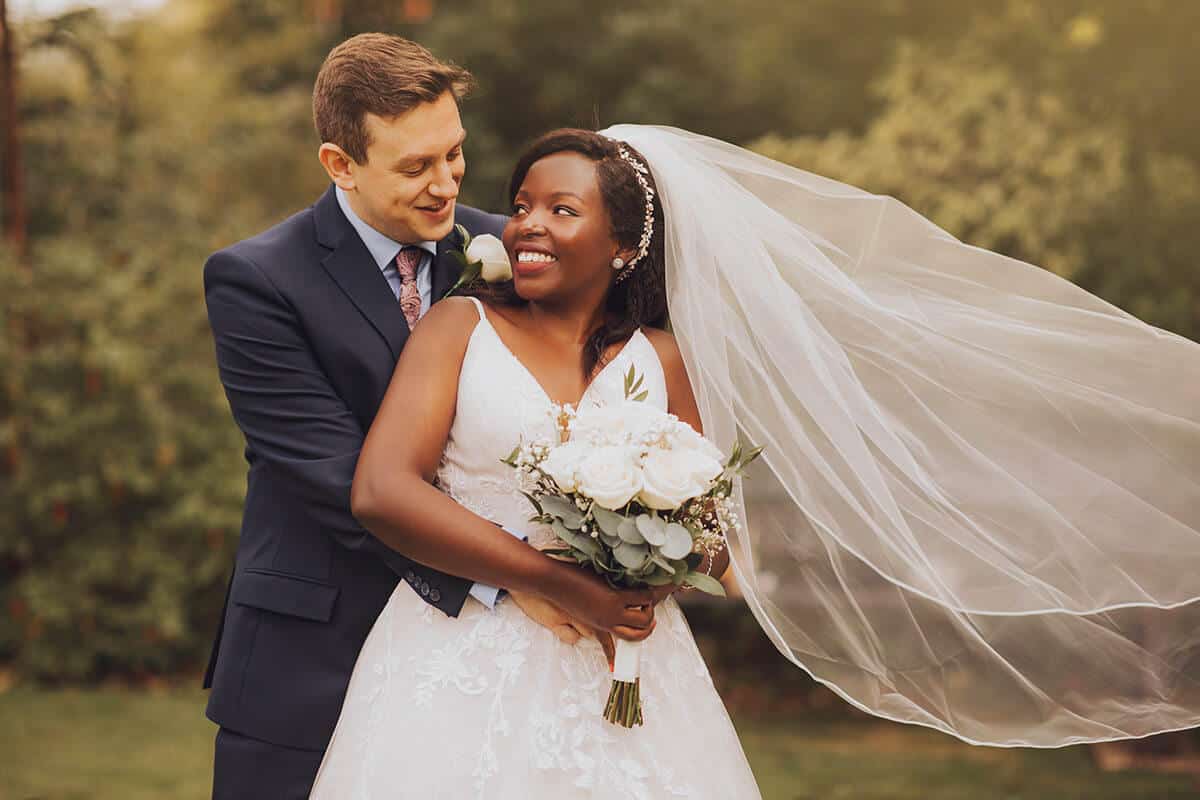 Newport Registry Office Wedding – Mr & Mrs Stewart
Susan and Jordan had planned a small Newport Registry Office wedding celebration this year and taken advantage of the fact that everything was available due to lots of postponements due to the virus.
"We met at university on a Masters course about 10 years ago. It was love at first sight for the groom-to-be but the bride-to-be wasn't interested! She changed her mind but the groom-to-be was too much of a sissy to ask her out. But, just like any fairy tale, there was a happy ending; he eventually plucked up the courage to ask me out and we've been together ever since."
Jordan had such grand plans for his proposal but coronavirus had other ideas, causing him to pop the question at their home which sounds just as romantic!
We were going to be travelling to Porto on March 14th this year, our third anniversary; I had planned to propose to Susan after a romantic meal somewhere along the river that runs through the city. Unfortunately, the day before our trip we realised flights would be cancelled so we would end up stranded in Portugal. So, in the end, I had to just propose in our bedroom as we were putting our holiday clothes away.
The Newport Registry Office Wedding Day
Susan got ready at the Celtic Manor Resort with her two sisters. Her younger sister did her make-up and hair beautifully.
They tied the knot at a Newport Registry Office wedding at Mansion House. The bride was a little late due to being stuck behind a skip in the road! But she turned up and the ceremony was lovely. They had just immediate family to the wedding so it was small and intimate.
After the ceremony, we had group photos on the lawn before I whisked them off to Belle Vue Park to take their couple photos.
They arrived back to Celtic Manor to be showered with confetti by their guests who were already there. They had a wonderful meal together and cut their cakes – yes, plural, they had three!
Thank you so much for letting me share in your beautiful Newport Registry Office Wedding day!
"We honestly had no idea where to look for a photographer and, due to the last-minute nature of our wedding, we were feeling really nervous about the prospect of not getting a photographer. After speaking to you it was a huge relief! You gave us some really great pointers for the day and we loved your ideas for photos! To be honest, after the glowing recommendation from our friends, seeing your photos and then speaking to you over the phone we didn't consider any other photographers but you!"
Suppliers
Florist: Charles Barrett Florist
Dress: WED2BE
Cake: Beth's Bakes
Makeup: Bride's Sister

Check out some other blog posts