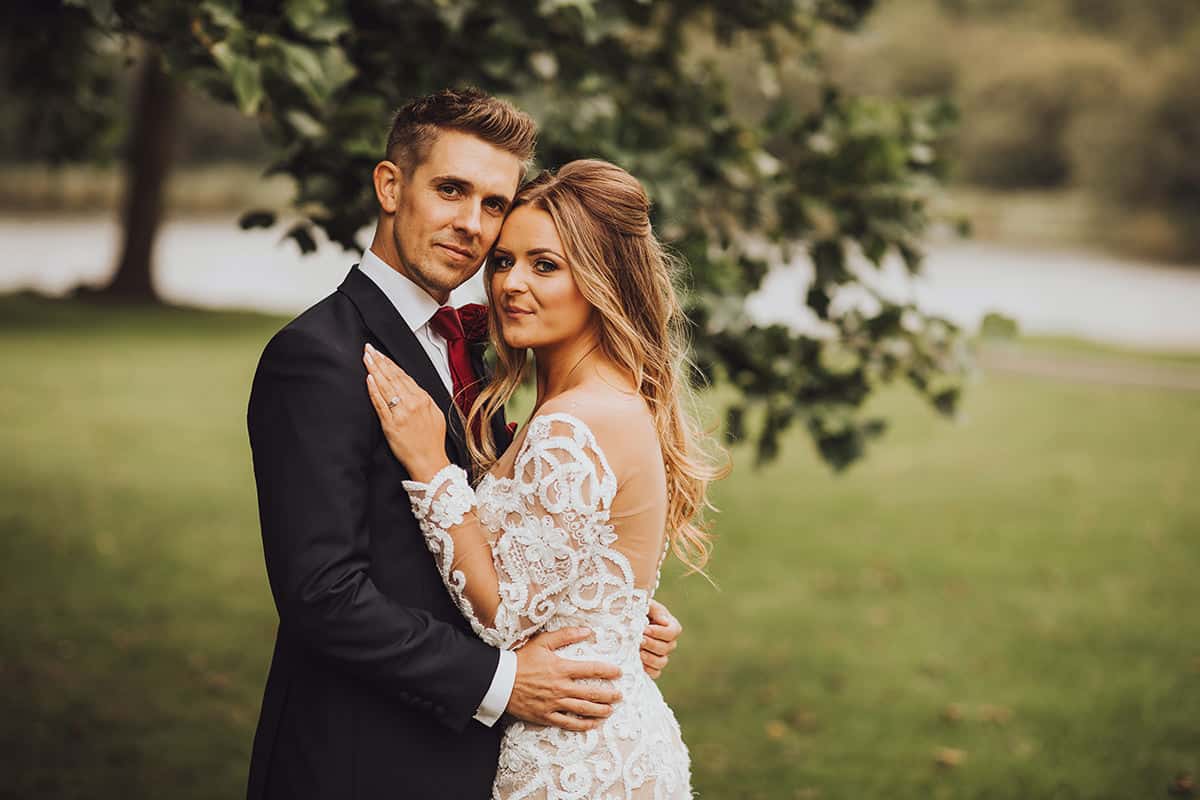 Hensol Castle Wedding, South Wales – Mr & Mrs Davy
Katie and Toby planned the most incredible Hensol Castle Wedding. They met whilst on holiday in Gran Canaria. Katie was on holiday with my friends and Toby was on holiday with his friends.
"We kept randomly bumping into each other, and on the last day of our holiday we properly got to know each other on a boat trip."
The Proposal
Both Katie and Toby love to ski and Toby planned the most romantic proposal on the top of the highest mountain in Alpe d'Huez in France as it was snowing!
The Wedding Day
Katie got ready at The Vale hotel with her bridesmaids, flower girls and her mum too. Toby had made her a video as part of her wedding gift which included little clips from their entire 8 year relationship! I don't think there was a dry eye in the room! Her dad walked in to see her and burst into tears instantly as he saw his daughter as a bride for the first time.
The Ceremony
Hensol Castle looked amazing despite the rain hammering down outside.
"The song I'm walking down the aisle to is special for Toby and I as I have always loved this song. Although I never knew the name of it! As soon as I hummed it, Toby knew what it was straight away without me having to play it at all!"
Katie walked down the aisle with her emotional dad, whilst holding back the tears. The ceremony was relaxed with Toby getting the giggles and setting the whole room off too! They left their ceremony as a married couple and walked under their confetti in the archway of Hensol Castle's doorway.
The Reception
The afternoon brought live music from a guitarist, welsh cakes and the rain even stopped long enough for us to have photos outside too. The speeches were heartfelt and hilarious, with the best man creating a slideshow and a song where he'd changed the lyrics to fit their relationship. The whole room was in fits of laughter, so much that Katie even fell off her chair!
The evening brought an amazing first dance, more live music, sparkler fun outside and even backlit rain photos too!
Such an incredible day at this Hensol Castle Wedding!
Thank you so much for having me along!
See another castle wedding here
Suppliers:
Dress: Riki dalal from One Bridal
Suit: Dyfed Menswear
Hair & Make-up: Jenna McDonnell
Florist: Hilary's Floral Design
Video: Steve Ratcliffe
Shoes: Ted Baker

Check out some other blog posts