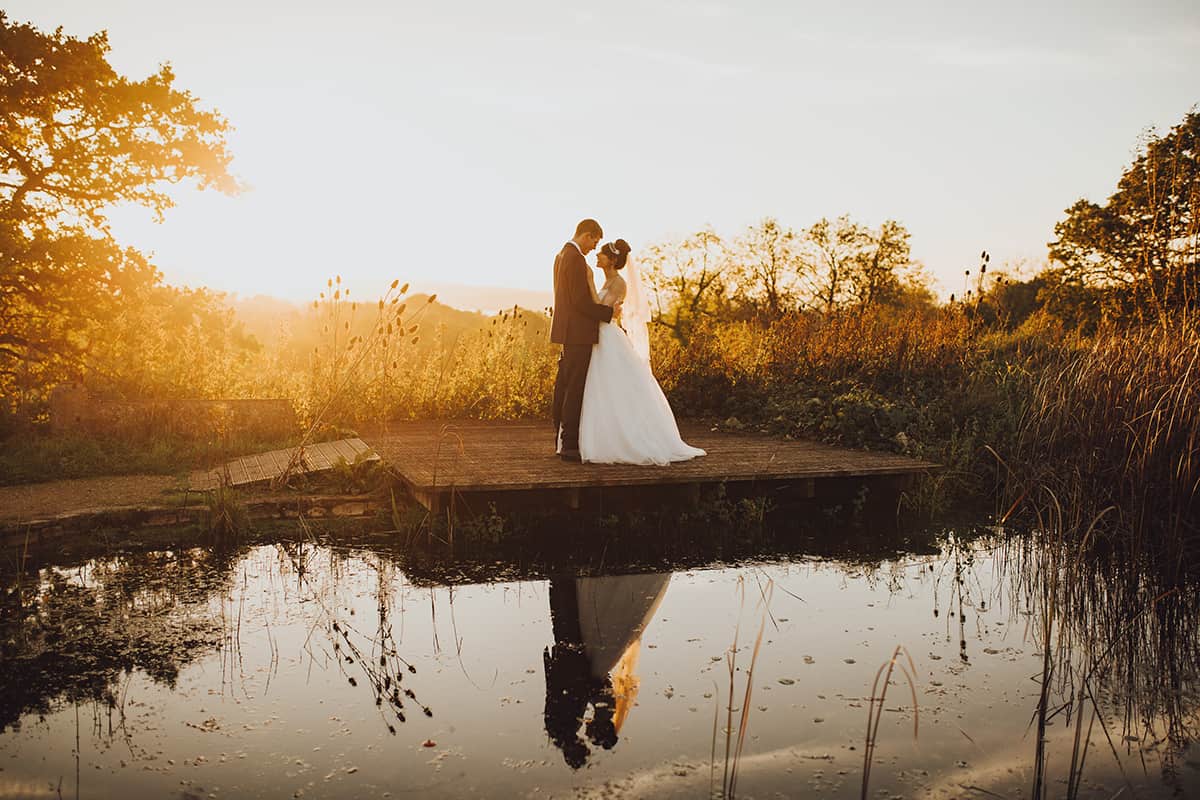 Mr & Mrs Davey- Folly Farm, Bristol
Nicky and Jack chose to have a beautiful Folly Farm wedding. They themselves live in London and their guests made the journey to Bristol for this special venue. I got to the farm and the whole place was covered in a thick, dense fog. As the sun reared it's head, the fog ebbed away, and it looked like it was going to be a perfect day.
In the bridal suite, Nicky was having her hair and make-up done. She was taking some quiet time by herself to reflect on the day ahead. The bridesmaids were in their own rooms helping each other with their makeup and listening to Jack and his best man play their guitars.
Guests started to arrive and explore Folly Farm, they even found the pigs.
They chose to light the ceremony room with tea lights, providing a soft golden glow to the wedding. Nicky's proud mum walked her down the aisle to her Groom, who everyone was astounded to see wearing a suit for once! The ceremony was romantic and sweet, with friends doing heartfelt readings. They chose to display 2 very sweet felt hedgehogs as a homage to Nicky's father, who sadly passed away last year. He was Italian, and on his family crest were lots of hedgehogs, so this was the perfect memorial.
We exited the ceremony to see the low autumn sun still out. We managed to sneak away some time for some couple portraits amongst the apple trees and around the farm whilst the guests enjoyed welcome drinks in the atrium.
In their wedding breakfast room, they chose a theme of music. The table plan featured musical notes and the favours were personalised CDs recorded by the bride and groom themselves. Nicky said a few words before they had their wedding breakfast and we were fortunate enough to have the most beautiful sunset. The sun sets over the rolling hills at Folly Farm. They snuck out of their wedding breakfast to chase the light with me before heading back in for some incredible speeches. Firstly by Girome, a close friend of her dads who took the place of her fathers speech, her maid of honour, Jack himself and the best man.
Jack and Nicky performed a couple of songs on their acoustic guitars to all their guests. After, they took their choreographed first dance! A crazy dance floor DJ'd by Jack's brother Ed, fire pit and sparklers ended a fantastic day.
Thank you so much for having me at your Folly Farm wedding!
Suppliers:
Venue: Folly Farm
Dress: Essence of Australia 
Suit: M&S
Hair & Make-up: Tamara Tott
Video: Benjamin Foster
Florist: Classic Flower Designs
Favours: Home made Bonbonieres and CD






















































































Check out some other blog posts