6 Secrets for Planning the Perfect Wedding Timeline
Planning your wedding timeline can seem like quite a daunting task at the start. You may have only been to a handful of weddings before. You aren't sure how long things take so it can be tricky to start to create your own wedding day timeline.

Fortunately, I've been to a lot of weddings. I can help you with my advice on planning your UK wedding day timeline. Having a great wedding day timeline ensures your day has a good flow to it. That there's no rushing around or any long lulls in the day where nobody knows what to do. I strongly recommend having the wedding timeline written on a board somewhere around your venue. This way your guests know the plan too.
1.Your wedding morning
Usually you'll be getting ready with your bridesmaids either in your home, a hotel or your venue's bridal suite. If possible, try to avoid having too many people in the room. Only your bridesmaids, photographer, make-up artist/hairdresser and maybe your mum should be in the room with you.
Too many people can create a stressful environment and create a lot of clutter in your photographs.
As a photographer, I tend to arrive around 2 hours before your ceremony and the best thing for your photography is to have a clean and tidy room.
Aim for all of you to have hair and make-up finished 1 hour prior to when you want to leave to go to your ceremony. If anything runs over you have that time as a buffer. It also allows for any gifts to be given and have final photographs taken before you all put on your dresses too.
2. Your Ceremony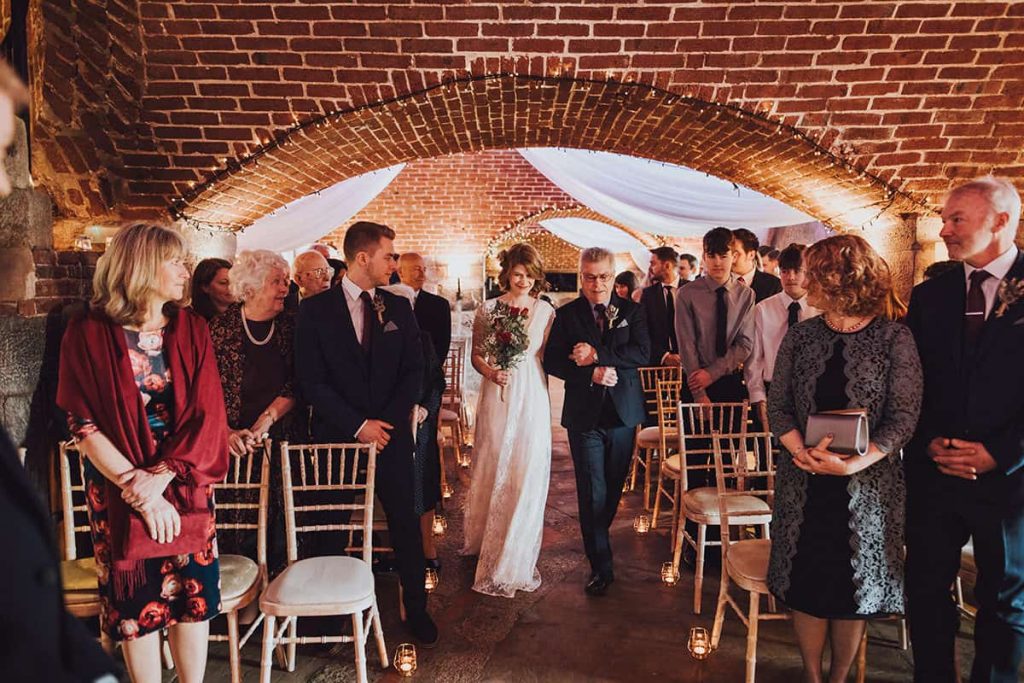 A traditional church ceremony in the UK can take anywhere between 45-90 minutes depending on how many hymns, readings or speeches your vicar does. A civil ceremony takes around 30 minutes with readings or as short as 15 minutes without readings!
Tip: If you're going traditional, remember the bride's family sit on the left and the groom's sit on the right.
Personally, the best time for your wedding ceremony in your wedding timeline in the UK is around 12pm or 1pm. This allows your guests to have a light lunch beforehand. It also gives you enough time after your ceremony to fit everything else in.
3.Confetti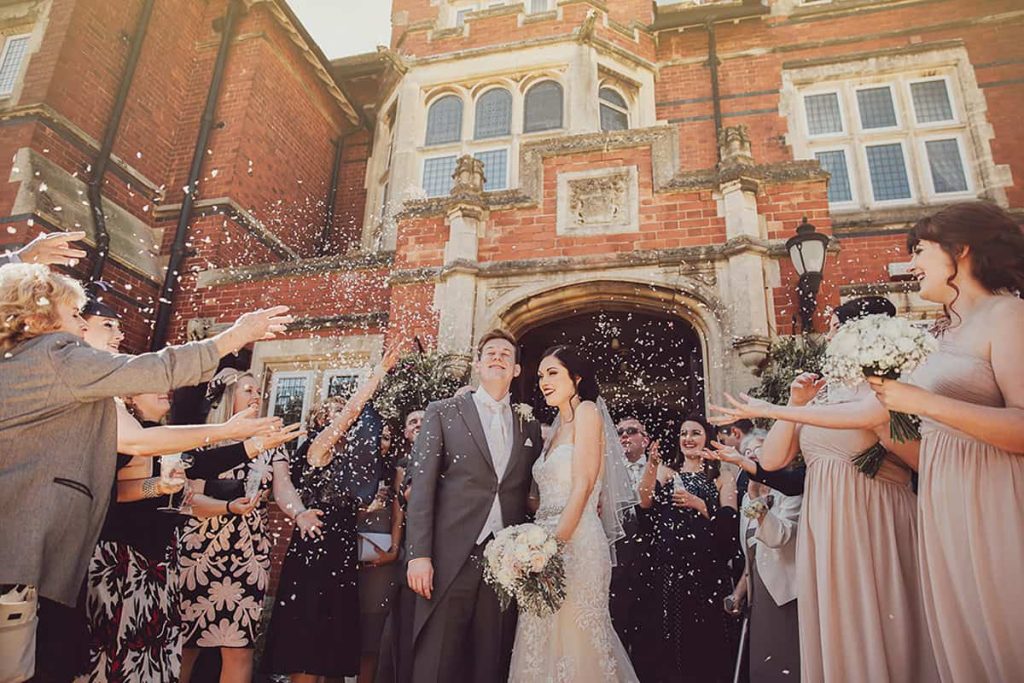 After your ceremony, it can take a lot longer than you expect for all your guests to exit your ceremony venue if every person is stopping to hug and congratulate you on the way out. A way to speed this up is for you both to exit first and take yourselves away from where your guests will exit. This gives you the chance to have some time together whilst your photographer will gather your guests and organise everyone for the confetti shot. You both can then emerge, enjoy your confetti aisle and be greeted and congratulated by your guests afterwards.
4.Drinks reception

I recommend around 2 hours of reception time here. It sounds a long time but it will fly by. If you are worried about your guests being bored or hungry in this time, provide canapés, a drinks station and consider having some entertainment. You could have garden games, live music or even a magician.
Whilst this is happening, your guests are enjoying themselves. It gives some great opportunities to capture informal, candid photographs of your guests celebrating your day.
Group Photos
I normally let you mingle for half an hour or so before starting your formal group photographs. You'll have given me a list of your group photographs prior to the day. We also assign a member of your family or a friend to gather people to make the process quicker too. After this, I'll aim to capture your wedding breakfast room laid up before your guests get there.
By taking you for your couple portraits whilst your guests find their seats for the meal, it means they won't notice you're gone. I'll bring you back in time to be entered into your breakfast room as newly-weds!
5.Wedding Speeches
If you're having a 3 course wedding breakfast, allow around an hour and a half for service. Traditionally, the speeches are after you've eaten. The order they go in is: Father of the bride, Groom, and then Best man.
It's becoming increasingly popular to have your speeches before your food is served. This way the speakers can enjoy their food without nerves! Having your speeches in between courses isn't ideal for your caterers. They will have planned timings to make sure everyone has a hot meal. It's also not super ideal for your photographer/s. At this is the time we take our break, backup all the photos we've taken so far and check equipment. Whatever you decide to do, make sure you tell your caterer because they'll need to adjust timings accordingly. Also tell your photographer as they will want to make sure they're around when your speeches start!
6.The Evening
At most of the weddings I've attended, the evening guests arrive around 7:30pm. The first dance is what opens the dance floor for the evening party to start. So it's a great idea not to leave it too long after your evening guests have arrived.
Once you've had your first dance, all your guests can let their hair down!
If you haven't yet cut your cake, it's a good idea to do this just before your first dance. That way, your venue staff can be cutting it up ready to be served with your evening food whilst your dance floor is packed.
As well as dancing, your evening can be full of other entertainment too. I've seen magicians, casino games, dance-floor-limbo, a glow-in-the-dark face paint stand, photo booths and beer pong tournaments!
Sparklers are always lots of fun if your venue allows them.
Some venues offer fireworks or a fire-pit to light up your evening too.
I hope these 6 secrets to planning the perfect wedding timeline has been helpful for you.
My best advice for your wedding day is to make sure that you take a moment together to just take in everything which is happening around you. Everyone says that your wedding day goes so fast and it truly does, by taking yourselves away for a moment to reflect on the day, it puts everything into perspective and you can really appreciate your wedding day.
I wish you an amazing wedding day!
If you enjoyed this click here to read 4 Secrets to Nail Your Confetti Photos!

Check out some other blog posts